Unicorn or Bust 0.1
So, I've not been able to sleep properly for the last two days. Partially because I've been sick with acute conjunctivitis, an ear infection and laryngitis and the resulting blocked sinuses have made it very difficult to breath.
I am on the mend though, so don't worry 🙂
I'm also extremely excited about our upcoming family vacation to Germany, I haven't been back in 12 years! To top it all off I've also managed to arrange a meeting with the fabulous Wink from a creative being, one of my earliest Instagram friends.
When sleeplessness raises its ugly head I usually trawl social media, including Pinterest and for some reason one of the things that has been popping up on my feed recently are those very popular animal busts made out of anything from paper to, of course crochet.
Here are a few examples that I really like (please click on the image if you want to go to the original page).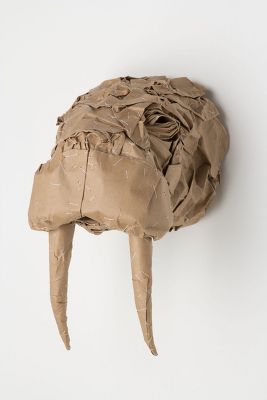 I just love this walrus from anthropologie!
This colourful crocheted Rhino from so super awesome is, well, super awesome! There's a whole range of animals on their site, just click on the photo to go to the page.
Of course I also can't forget to mention Wink's birthday present, which is actually the first animal bust I really liked.
So, you may be wondering what this is all about, well, I've decided to make an animal bust!
Not just any old animal though, a unicorn!
The last two insomnia plagued nights I've been brainstorming this project in my hear (I even started drafting this blog post on my phone while lying in bed, but there must be a bug in the app because none of my hard work was saved! I could weep!)
I was thinking about how to go about making a crochet unicorn and the first thought was obviously the amigurumi route but I don't really want a simplified version of a horse's head, I want a beautifully chiseled, Arabian type horses head.
My love and intimate knowledge of the equine form just won't let me get away with a simplified version of a horse 😉
I remember seeing some fantastic crocheted lions made by Shauna Richardson for the 2012 Olympics.
She crocheted three gigantic lions and they are fabulous! It's called The Lionheart Project and is well worth a look. There are photos of the work in progress which are really impressive!
Here's a photo of the artist in front of one of the gigantic lions from the project.

Huge, right?
Well, this is my main crochet inspiration for the unicorn, I love how she accentuates the muscles of the lions with different shapes and I think I may actually go the same route as her and create a polystyrene support to work around so that the shape is more permanent.
As I've already mentioned I'd like my unicorn to be rather Arabian in looks. Dainty head with flared nostrils and big eyes.
Kind of like this one.
The Arabian is definitely my source of inspiration 'straight from the horses mouth' (I'm sorry I couldn't resist!).
However, I've also been thinking about some of my favourite pieces if sculpture, the Elgin Marbles, or to the uninitiated, the sculptures that used to adorn the Ancient GReek Parthenon which are now housed in the British Museum.
Maybe one of the reasons that these sculpted horses are in my head at the moment is the fact that 12 years ago (the last time I was in Europe) I had the opportunity to visit them and they are truly magnificent! The fact that the sculptors captured the essence of the horse so perfectly without having a camera to freeze individual expressions amazes me to this day. That's what I call dedication and passion, for your art and your subject. There is no way that an artist can create such remarkable works without being completely immersed in their subject.
Here's a close up of one of the horse heads, just keep in mind that it is ancient and has been damaged by time and war.
I could stare at this all day!
In fact, I think my sister had to drag me out of the Parthenon exhibit because I didn't want to leave 😉
So, there you have it.
That is my inspiration for the unicorn which is taking up space in my head.
I apologise if this post is a bit out of the ordinary and doesn't have much actual crochet content but I think blogging about this project will keep me motivated to complete it. I plan on having a unicorn bust mounted somewhere in my home by December!
I will keep you updated with posts of my planning.
The next step: Making sketches and designing an armature to crochet over.